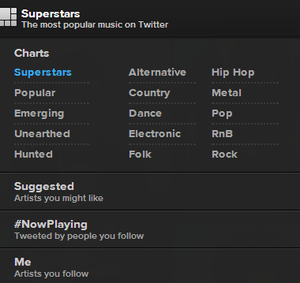 Although
Twitter's #Music
discovery service has gotten off to a somewhat shaky start (it was probably impossible to beat the expectations), it seems to be settling into its own comfortable groove. One thing that's important to fans and artists alike are charts, and #Music has
finally included them,
giving everyone a better idea not only of what's happening on Twitter but elsewhere as well.
#Music now provides 10 musical genre charts (from rock to country to hip-hop), but the 5 additional charts are the more interesting ones. These include Superstars, Popular, Emerging, Unearthed and Hunted. The Superstars and Popular charts show the songs that are currently trending on Twitter, while Emerging and Unearthed are truly for music discovery of new or lesser-known artists.
The most interesting chart of the bunch may be Hunted, which seems to be derived from
We Are Hunted,
the service that Twitter bought and turned into #Music. This chart actually looks at blogosphere to determine the listing, not just Twitter.
This service isn't catching on because it has limitations, since you need either a
Rdio
or
Spotify
subscription to listen to the song, or you can listen to 90 seconds from
iTunes
. That just isn't easy enough to use for most listeners who now have plenty of other choices that are much easier to get their music from. Too bad, because #Music could really be a boon to music discovery.
You can access the charts via the icon on
the upper left corner of the #Music page
.
----------------------------------
You should follow me on Twitter for daily news and updates on production and the music business.